Comprehensive
Support Structure
One-stop-shopping solution structure
for consistent support from briefing of product development to design,
production throughout to delivery
Sunsho Pharmaceutical provides consistent support
from product development / design (e.g. raw material selection and formula development for health foods / dietary supplements)
to manufacturing and packaging,
delivering competitively-priced high-quality products to customers in a fast turnaround.
Contact us if you are considering entering into the health food industry or developing new products in the pharmaceutical,
foods and cosmetics industries.

1

Customer consultation

Our motto is to reflect customer requests accurately to create products to their satisfaction. Consult us on your product concepts or concerns about existing products.

2

Product planning and suggestion

and design / suggest a product concept, format, formula and other details that meet customers' needs.

3

Selection and development of raw materials

We offer the development of high-function and unique ingredients through selecting materials, processing them into health food ingredients and applying ultra-fine grinding process for high added value.

4

Product development

We can develop prototypes, determine final product specifications, estimate costs and check product stability.

5

Prototype experience

Customers can experience their prototype at the ADC (Application Development Center) to verify its marketability.

6

Main production

Customers' products are manufactured under thorough hygiene and quality control at our plants that comply with GMP standards for pharmaceuticals and dietary supplements.

7

Product testing

Physical / chemical / microorganism tests as well as other strict product testing are carried out by experienced and skilled testers.

8

Packaging

We suggest an optimum packaging format according to the quality and functionality of customers' product, and handle all processes up to package processing.

9

Shipment

Only the products that pass our strict shipment inspection, carried out by managers, are shipped to ensure product safety and security.
Shortening the development and manufacturing lead-time through various efforts including the use of the ADC for accelerated prototype development

The hands-on prototype product development studio, ADC (Application Development Center), was opened in 2020 as our new initiative. There, prototype development is carried out in customers' presence to eliminate any wasted time from readjusting the direction of prototype development, and interacting with customers for delivery, confirmation and examination, thereby reducing the prototyping duration (normally about 3 months) by two-thirds. All processes from order registration to shipping are also optimized to halve the development / manufacturing lead-time.
■Reduced prototype development lead-time through co-creation with customers at the ADC Product design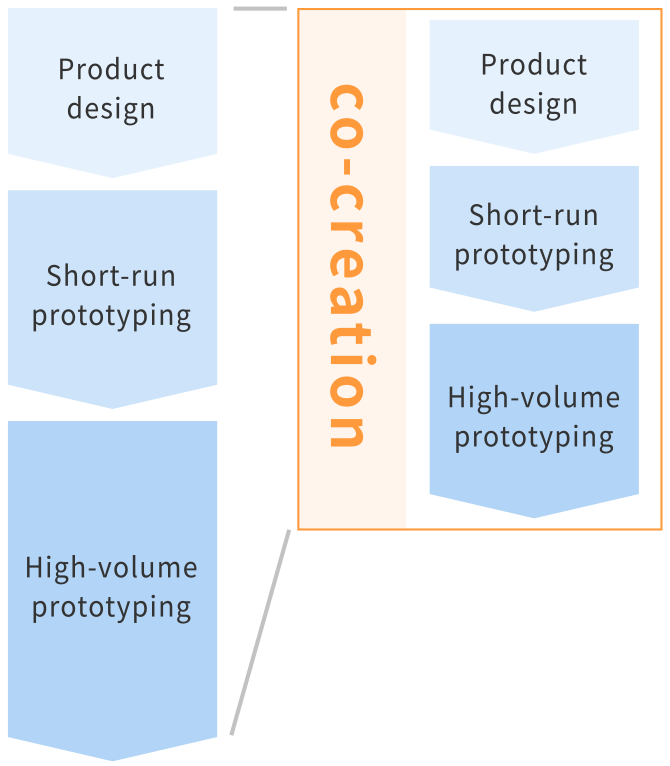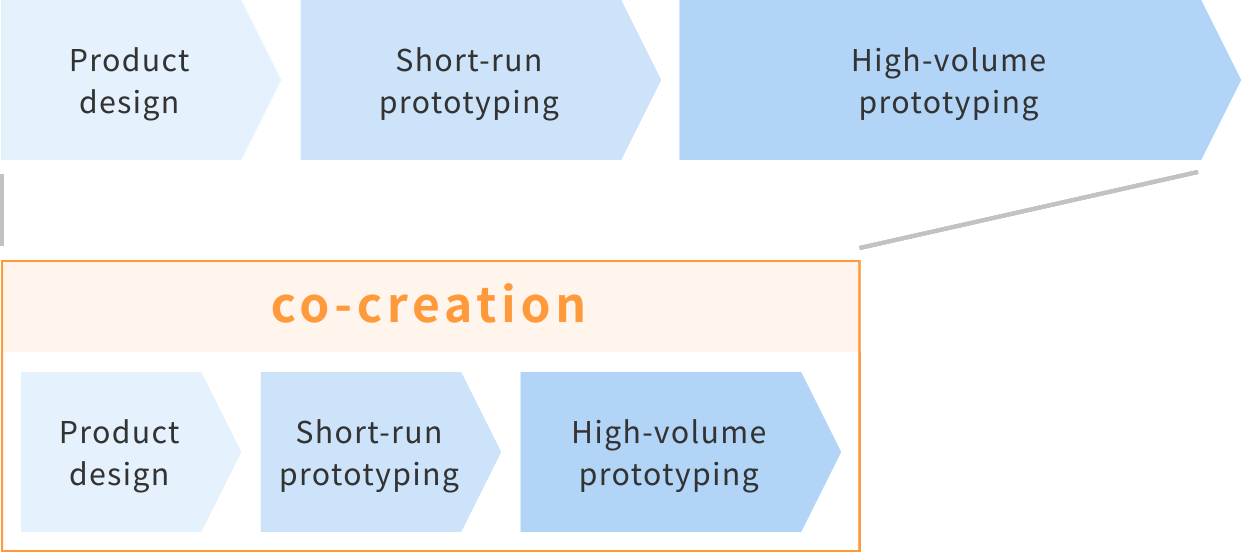 ●Accurate and efficient product development
●Appropriate delivery of information to assist decision-making
Flexible optimization
of staffing, facility operation and material management.
Fast turn-around production line that caters to customer needs.
Sunsho Pharmaceutical uses a flexible approach
in adjusting and optimizing "staff operation" and "production line administration"
to operate fast-turnaround production lines, catering to customers' urgent needs.
Our production structure can accommodate "just-in-time" manufacturing,
as it not only has ample inventory of raw materials at all times,
but also facilitates customers switching to us
or using us as a secondary supplier when the primary supplier becomes incapable of meeting sudden demand increase,
or meeting the needs of own customers' bulk-production needs at a fast turnaround for packaging.